Forrest Packard, DDS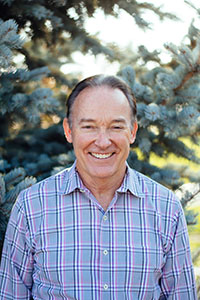 Dr. Forrest Packard has over 30 years of dental experience and continually serves our community with great skill and care. He finds great joy in serving his patients, and he gets great satisfaction from making patients smile again. Dr. Packard graduated from the University of California, Los Angeles in 1985, and received a bachelor's degree in zoology from Brigham Young University. He has received advanced training in orthodontics, TMJ treatment, and dental implant placement. Every year, Dr. Packard takes several continuing education courses to stay current in these fields. He is also a member of the American Dental Association.
Dr. Packard has been happily married for 35 years, and he has 12 children and 10 grandchildren. When not at the office, he loves gardening, fishing, and spending time with his family.
---
Kevin Packard, DDS


For Dr. Kevin Packard, excellent dentistry is about taking care of patients' needs and treating them like family. Dr. Packard and his family love Ellensburg and serving their community. A 2011 graduate of the University of Texas Health Science Center at San Antonio, Dr. Packard has the expertise and training necessary to take care of your needs. He also received a Bachelor of Science in biology from Brigham Young University in 2007. Dr. Packard continues his education on a regular basis and is a member of the American Dental Association.
Dr. Packard married his wife, Ashley, in 2005, and he has three daughters, so there is never a dull moment at home. Away from work, he enjoys mountain biking, camping, wakeboarding, and spending time with his family. Dr. Kevin lives in Ellensburg and looks forward to serving the community for years to come.
---
Jordan Packard — Practice Administrator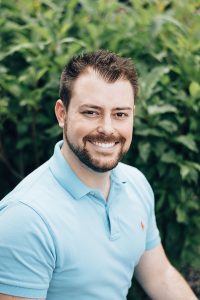 Jordan has been with our practice since 2017. He graduated from high school in 2007 and from BYU Idaho in 2015 with a bachelor's in healthcare administration. He is the oldest of six and grew up in a family of dentists. What he likes best about our practice is that Creekside Dental Ellensburg is a family-centered practice that strives to give the personal, small-town feel that supports their philosophy of, "Let our family serve your family." Jordan enjoys being part of an educated team that is highly knowledgeable about the cutting-edge dental technology and procedures. He is teamwork-oriented and self-driven, as demonstrated in his accomplishments of being an Eagle Scout and serving a two-year LDS mission in Asuncion, Paraguay.  Jordan is  bilingual in Spanish and enjoys building rockets, hydroponics, 3D Printing, fishing, and hunting.
---
Madlin Dorhofer – Main Receptionist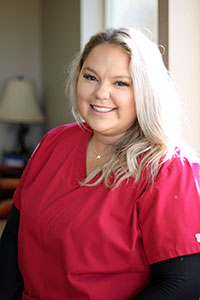 Madlin joined the practice earlier this year and has been a great addition to our team. You can expect nothing but smiles and a joyful attitude from the moment you walk into the office. She enjoys playing softball, spending time with her dog and outings with her family. She currently attends Central Washington University and is working on obtaining a degree in psychology.
---
Rhylee Ashby – Dr. Forrest's Scheduling Coordinator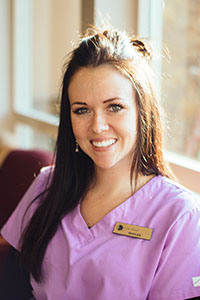 Rhylee has been in the dental field for six years and especially loves working with children.  She plans to be in the dental field for the foreseeable future, as she will be applying to dental hygiene school soon.  Besides dentistry, she loves horses, hiking, crafting, and family.
---
Alexandria Gumerson – Dr. Kevin's Scheduling Coordinator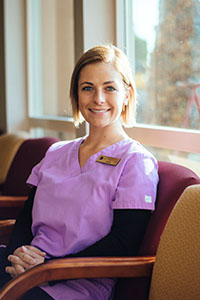 Born and raised in Ellensburg, loves spending time with family and friends, hiking and camping. Graduated with a degree in Finance in 2013, favorite thing about CSD is the genuine family environment, and always having the patients best interests in mind. Free time love to explore the outdoors, crochet, and watching sports.
---
Haylie Powell – Hygiene Recall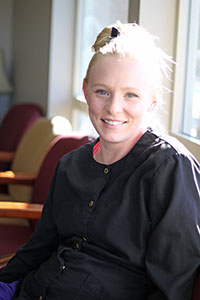 Born and raised in Portland, Oregon, the small town and family-focused community of Ellensburg appealed to her. She enjoys playing with her son and exploring Ellensburg. Her job is to ensure that the transition of medical records is smooth and without issues for transferring patients. When she is not taking fielding new patient phone calls and making new patient appointments, she makes sure that the transition of dental records is smooth and without issues for transferring patients.
---
Janet Velasquez – Dental Hygienist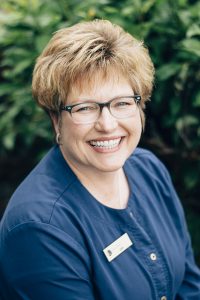 Jan is one of our dental hygienists and has spent her many years bringing maturity, experience, and humor to our practice. She loves working with Dr. Forrest Packard, Dr. Kevin Packard, and our staff. Together with our team, Jan continually works on learning new and exciting ways to deliver and expand our services to our patients and the community. She finds our office a great place to be! Jan's message to her patients is, "I love to work with each of you to make you comfortable!" She works hard to help patients reach the level of health they want to be at and put a smile on their faces.  Jan attended the YVC Dental Hygiene program and graduated in 1979. She continues her education yearly and has attended classes on dental lasers and dental implants. Jan has been married for 35 years and has 2 children and 4 grandsons. In her free time, she enjoys being a grandma, reading, and knitting.
---
Teresa Keith – Dental Hygienist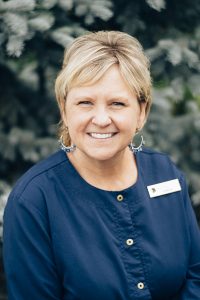 Teresa has been in the dental field for over 34 years, beginning as an assistant for 10 years and becoming a dental hygienist after that.  She loves working with people and caring for them.  Nothing is more rewarding to her than having a fearful patient smile and thank her at the end of her time with them.  For her, it isn't just about teeth; it is about building relationships with people in our community and providing exceptional quality care.  Teresa has a large family, including many adopted children, who fill her life with love.  They enjoy spending time together as a family, including taking the kids camping and mushroom and huckleberry picking.
---
Allison- Dental Hygienist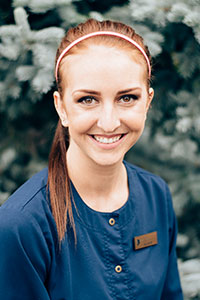 Allison joined the team at Creekside the summer after graduating dental hygiene school from Columbia Basin College. Allison takes a personal role in knowing her patient and prides herself with providing gentle, quality dental care to all. In her free time, she likes to travel, hike, play tennis and spending time with her family; and her American Eskimo dog. Allison looks forward to serving you with the wonderful staff
at Creekside!
---
Elle Samuelson- Registered Dental Assistant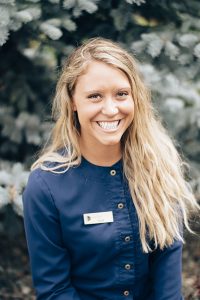 Elle has been in the dental field for four years, having started dental assisting right after high school.  She loves watching the transformation that occurs in people's lives and mouths as they undergo orthodontic treatment and cosmetic dentistry.  Most of all, she loves working with patients, meeting new people, and making them happy.  Her goal is to make every visit a positive experience.  Outside of work she enjoys spending time with her family and her black lab, camping, fishing, hiking, surfing, and traveling.
---
Meghan Sorenson – Registered Dental Assistant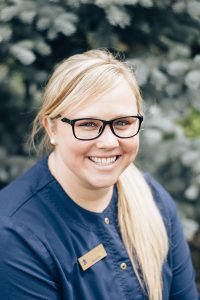 Meghan has been with our office since August 2011, and she contributes much to our team atmosphere. She loves to learn new things and help patients have a positive experience. Every day brings a new adventure for Meghan. She graduated from EHS in 2008. In her free time, Meghan enjoys hiking, fishing, watching sports, and spending time with family. She has been married since September 2014 to her high school sweetheart, Cody.
---
Sheila Goodman – Registered Dental Assistant (kids)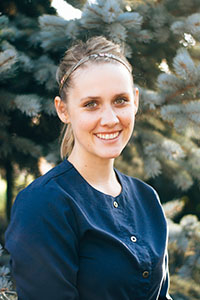 Sheila LOVES being in Ellensburg! She spends her time with her two kids, being around family and taking adventures into the surrounding mountains. Having two kids of her own, she understands and enjoys helping in educating kids in the Kittitas County on the importance of oral care.
---